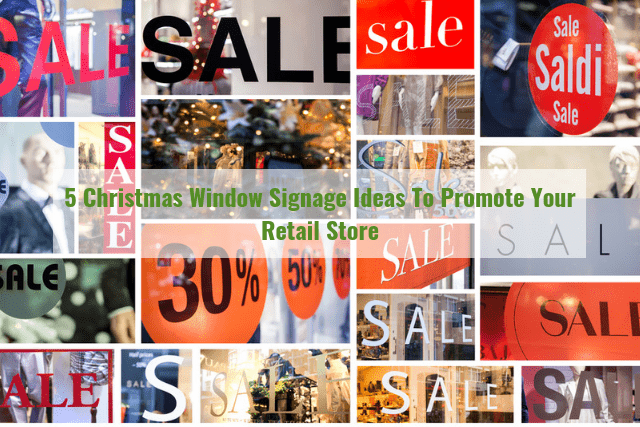 We are now fully in the midst of the holiday season and as Christmas is only weeks away, there has never been a better time to promote your business. There are numerous shop signs in Manchester and each of these is able to offer an interesting set of benefits. What are five worthwhile ideas to consider?
Vinyl Graphics
Vinyl window graphics are excellent ways to promote your company. These eye-catching advertisements are limitless in terms of your design options and installation is simple.
Banners
Banner ads will automatically attract the attention of onlookers and they can help your store stand out from nearby competitors. Banners can also be great methods to display contact details or to promote a holiday-related discount programme.
Transparent Advertisements
Transparent window signage is unique in the fact that it allows the interior of your store to be presented to the public. These graphics are ideal solutions if you are dealing with a limited amount of space and you still want your unique products to shine through. Once again, there are nearly limitless branding and design options to choose from.
Complimentary A-Board Signs
A-board signs can often be used in conjunction with traditional window signage. These lightweight options can be placed in front of your store in a matter of minutes. They are particularly useful in the event that the windows of your organisation cannot be easily seen due to nearby obstructions. A-board signage will highlight the presence of your shop to others; ensuring more inbound customers during one of the busiest retail periods of the year.
Christmas-Themed Branding
It is is always a good idea to imbue your window advertisements with a Christmas flavour. The time-oriented nature of this approach is often used in conjunction with holiday sales and discounts leading up to the new year. These signs will help to create a sense of urgency; encouraging the public to take a look at what you are offering.
As we can see, there are a number of unique window signage options at your immediate disposal. Each of these varieties will provide your business with the competitive edge that is required during the holidays. Of course, you may still have additional questions. Those who would like to learn more are encouraged to contact Signtech as soon as possible. After all, the holiday season occurs only once a year!