Shop window graphics designed to entice customers.
Let Signtech Visual Solutions design a set of window graphics that will show off your retail premises, and drive customers to your business. Whether you own a single corner shop or a chain of convenience stores, we can work with your corporate image or the franchise's image design. From takeaways to e-cig shops and jewellers, we cover anything that is possible throughout Greater Manchester and surrounding area.
Why choose us?
• Speedy service with competitive prices;
• Full colour printing with eye-popping graphics;
• Traditional and contemporary styles, tailor made to suit your requirements;
• Flexible, all work undertaken at a time that suits you;
• Reliable, all work done on time and within budget.
Why Window graphics?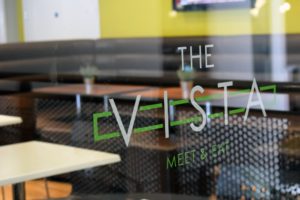 Window graphics are more than just a pretty face for your shop front. For value-led passing trade, they could be a window to watch for special offers or new additions to a menu. In a traditional style, they could be used to show a touch of class, and set them apart from their competitors.
As well as vivid full colour printing, we can also offer opaque window films. Similar to traditionally smoked glass, we can add your own frosted graphics to the window film. Just like the Victorians and Edwardians did with public houses and town halls.
Whether subtle or brash, we shall work with you every step of the way.
What else do we do?
If you turn to Signtech Visual Solutions for your window graphics, you may be interested in the other signage services we offer. To complement your window graphics, why not turn to us for A-boards? If your company offers a delivery service, turn to us for vehicle graphics: they are great for delivering pizzas as well as trades persons' vans. Wish to advertise your shop or store chain further? We also offer banner printing services.
For further information…
Call us on 01204 866124 or email us via info@sign-tech.co.uk. Our team at Signtech will be keen to discuss your requirements and give you a free no-obligation quote. Our postal address is:
Signtech Visual Solutions,
354, Halliwell Road,
Bolton,
Lancashire,
BL1 8AP.