Stand Out in the Crowd with Custom Van Wraps
Are you looking for advertising through wrapping in Manchester? This may well be a clever advertising technique, but it just happens to be pretty attractive too. Companies look for all sorts of ways to advertise their products, and commercial vans do a great job at being an on-the-move billboard.
Nothing gets your message across more widely and quickly than vehicle graphics and wraps, offering a really low-cost means of advertising, while reaching millions of people during a year.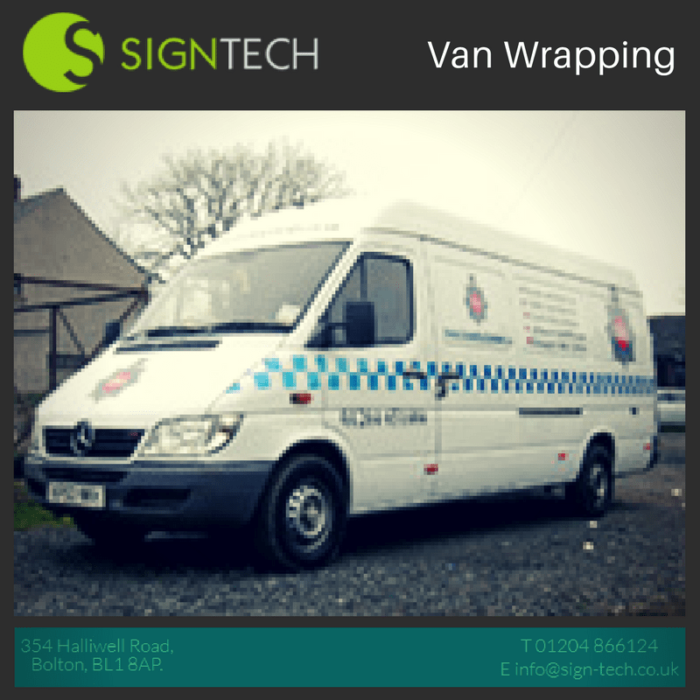 About Our Van Wrapping Services
Some businesses stress that with this type of advertising vinyl wraps change with your changing needs because their company details could change. They would then sit with a vehicle with information that no longer applies. The beauty about these adverts is that they aren't set in stone, and as your marketing needs change, you simply change and adapt your wraps to suit. Commercial van wraps are all about flexibility for your marketing message.
Look around and you'll see that van wrapping Manchester is big business. Vehicle wrapping is when you partially or completely cover your car in an advertisement or graphics that appeal to you. Yes, you can have designs painted directly onto your vehicle, but these days it is more convenient and cost-effective to simply use vinyl sheets as decals.
The vinyl wraps can be placed on the body of your car or for window applications such as the rear window. A perforated film is used that looks as though it is part of the wrap from the outside and which doesn't hinder your view one bit from inside the car. You needn't stress because the vinyl can be removed easily without any damage to your car. This is useful because if your business is offering sale items at ridiculously affordable prices, you can chop and change and add prices on your vehicles as the prices change.
No Unattractive Bubbling with your Van Wraps
With sophisticated technological advancements, you also won't find your vinyl adhesives bubbling on your van wraps from Signtech. In fact, the vinyl can be lifted and repositioned till you are satisfied.
You can choose your own designs or you can look on the Internet for trendy commercial custom van wraps – there is a brilliant inventory of products that will meet everyone's needs for motorcycles, motor cars and vans.
Be careful about the company you enlist to do your vehicle wrapping because if not well done it will have a negative effect on people who see the advert, and you don't want to mar such an effective marketing strategy.
For a free quote, please fill in the enquiry form below: