Bespoke Chapter 8 Chevrons
Why You Need Chapter 8 Chevrons
In the last decade, one thing you would have noticed is the use of chevrons on the rear of some vehicles. They are known  Chapter 8 referring to Department for Transport's traffic manual. This comes under the section entitled Traffic Safety Measures and Signs for Road Works and Temporary Situations.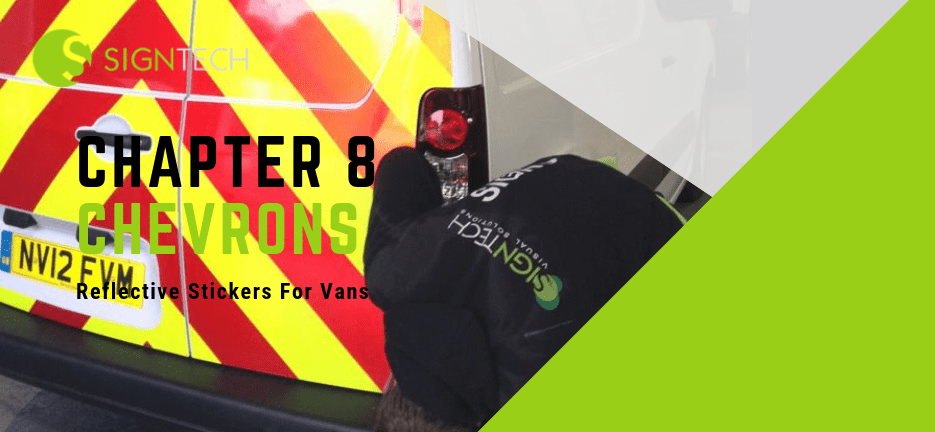 Before your company starts work on any of the Queen's highways, your vans should be of a conspicuous colour. For example: white or yellow, plus the all-important Chapter 8 chevrons. If your fleet undertakes work on the motorways, your chevrons need a Highway and Motorway Maintenance sticker. Again in a prominent place.
The Reflective Stickers
All Chapter 8 Chevrons should be high visibility markings seen on the back of HGVs, vans or cars, if used for road repairs or emergency services. For emergency vehicles, checkerboard markings should be added to the sides.
All kits should be alternate strips of fluorescent orange-red retro reflective material, alternating with fluorescent yellow non reflective material. Alternatively, a solid block of orange-red retro reflective material can be used.
Where we come in
We at Sign Tech are able to add Chapter 8 Chevrons to your fleet. Whether your company undertakes repairs on the M61 motorway or offers a breakdown recovery service, we shall be of help. We offer a bespoke solution designed to suit any vehicle from a hatchback to a Ford Transit van, and a HGV.
If you have any queries, call us on 01204 866124, or email us via info@sign-tech.co.uk. We shall get back to you as soon as possible.