A-Board Signs for Action
Why Signtech's A-boards are ready for action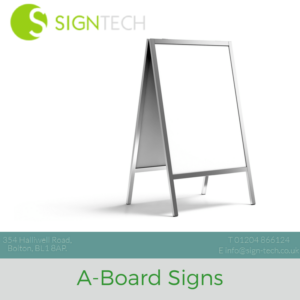 We can create A-board signs in full colour and monochrome – many of which in more effective designs than this example.
Our A-Boards are pressed for action. With our work, they will get your name out in no time, whether you choose full colour or monochrome boards. We at Signtech Visual Solutions are able to create A-Board signs that will drive passing trade to your business. Whether they need to seen at great distance from Deane Road or from a short distance on Bradshawgate, they will reflect your corporate identity at once.
You don't need to have your company's logo on our A-board signs: we offer blank boards. Some of them are suitable as chalkboards, which are great for pub menus or special offers and short notice announcements. Some of them have inserts which enable you to place your own posters inside the board.
Why do you need A-Board Signs?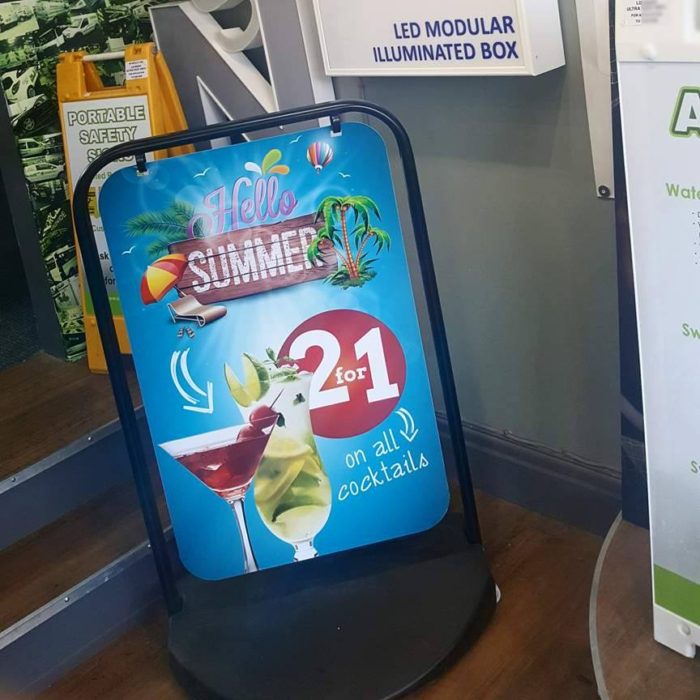 You may be looking for A-board signs to inform customers about your opening hours. When placed outside your shop, you can use these pavement signs to display your business hours. You may also want to attract customers to your business: first and foremost, your main reason for adding sandwich boards. For example: details of special offers, live televised sports events, or guest ales. Alternatively, you may be looking to advertise a certain product. You might want to concentrate on a single product, so an A-Board sign with poster inserts could be a good buy. A-board signs are also great for making immediate announcements: A-Boards with a chalkboard enable you to notify customers of quick changes to your product or service.
Why choose Signtech for your Pavement Boards?
Here at Signtech, we are able to offer a truly personal service. With our state-of-the-art printing equipment we are flexible enough to accommodate your corporate imagery with short lead times. If you have any further queries regarding our A-board and pavement signs, please call us on 01204 866124, or send us an email to info@sign-tech.co.uk. We will be delighted to help you straight away.