Custom Roller Banners
& PVC Banners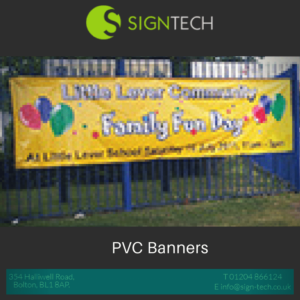 Banners and signs are an excellent and cost-effective way to promote businesses and events. Whether you're after a banner to celebrate a wedding, promote a corporate event or simply to raise awareness of a new enterprise, you can come to Signtech.
PVC Banners for visibility and clarity
Custom PVC banners are an excellent way to get your brand or event noticed. Bold, vivid and concise, banners are all about getting your message across in the simplest and quickest possible way. Today's busy consumer doesn't have time to stop and read press releases and articles in the newspaper, but a well-designed banner won't fail to catch the eye. Roller banners are also conveniently portable, so they can be brought along to events and seminars where you may wish to display your banner.
Bespoke PVC banners to suit your needs
Many of our clients come to us with clear ideas of what they're looking for in a bespoke banner, and we're more than happy to create a banner following your own design. If you're not the creative type, don't worry – you can leave it to us to design and produce your banner from scratch. Just give us some ideas about the kind of banner you're after and our team of expert designers can do the rest.
The perfect banner
Ideally, a well-designed banner is bright and bold. You want the image of your banner to be imprinted on people's minds after even just a quick glance. The design and colour scheme of your banner should ideally match the style and colours of your brand, and an effective advertising banner uses scant text and eye-catching imagery. At Signtech, we can work with you to design a banner that ticks all the boxes.
Roller banners Manchester
Signtech are a creative design agency based in Manchester, UK, who create eye-catching and unique banners in a variety of colours, shapes, and sizes. Our roller banners can be ordered in either vertical or horizontal formats, and we also produce signs for shops, vehicles, and safety signs. We also pride ourselves on our exceptional customer services and competitive rates.
If you're interested in having us design custom PVC banners for your business or event, please don't hesitate to get in touch by phone on 01204 866124 or email at info@sign-tech.co.uk. We're confident that we can work with you to design the perfect bespoke banner to meet your requirements.